Featured products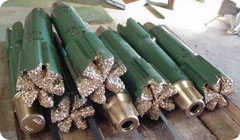 H.E. Halford Welding Company Mills are machined from 4140 heat-treated alloy bar steel. Halford's mills are carefully surfaced with a diamond-tough tungsten carbide alloy, which is individually hand welded with great precision and care to give each tool maximum cutting time and life.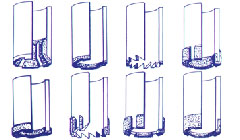 Rotary Shoes provide a method for creating clearance between the well bore wall and the fish. There are two basic types of shoes with a number of variations to suit specific needs. Shoes may cut on the bottom, the O.D. or I.D. or in combination.
Custom Fabrication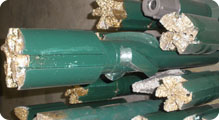 Texas based Halford Milling Tools carries with it over 25 years of experience in custom metal fabrication. Custom designed tools are made on request as are specialty items such as:
Lead Impression Blocks
Diamond Port Bits
Pilot Mills
Round Nose Mills
For More information, contact us at:
Toll free: 888 605 5048
email: hehmills@aol.com
Consulting Services
Halford can provide consulting for selection and use of the proper fishing tools, for re-entry scenarios, as well as a variety of other
real-world situations. With a wealth of experience both in the oilfield and as an oilfield supplier, Halford has the knowledge to help you make the most profitable decisions.
Other Services
In addition to our other areas of service, Halford also sells new and reworked fishing tools, and will also purchase used fishing tools.